Penang Island... an island with everything available from mamak stalls with WiFi hotspots to high class kopitiams. The grass is always greener on the other side... I don't even know where to go during the holidays except for food hunting and clothes hunting. Penang Heritage Site, I only see temples and mosques and I am truly aware of the burning, scorching sun.
Walk through the streets in George Town... and you'll see chicken rice stalls in front of you, on your left, on your right and right behind you.
Oh my, Char Koay Teow is everywhere. "Sisters' Char Koay Teow" in Macalister Road not that popular anymore after their untoward confrontation with a tax officer a few years back. The more popular one now will be Ah Leng Char Koay Teow, opposite my place or should I say directly opposite Federal Place in Datuk Keramat Road. Singaporeans fly in to Penang just to eat char koay teow but for me, you give me free also I don't want...
RM5 per plate.. I told mama very expensive, but she insisted that there were two large prawns. Mama, you want large prawns you tell me... I get 1 kg for you, double that size. Whenever I cook prawn dishes, you complain not good for health... now you're paying RM5 for a few strands of koay teow and yet, you emphasized on the prawns... *pengsan* Additional seafood will be RM9 per plate.
Now, Penang state government plans to promote

twelve

items as 'MUST BUY' products for tourists who visit our Pearl of the Orient. Let's take a look at the 12 items which I will number them while the extras will be my own recommendation:
#1 & 2: Tau Sar Pheah and Sesame Oil
The state government didn't mention which brand... but I, as a Penangnite, recommend Ghee Hiang in Macalister Road. Of course you have Him Heang and whatever Heang but Ghee Hiang is still the best...
#3: Nutmeg
you want nutmet, go to Balik Pulau... I promote something else in Balik Pulau..


the King of the Fruits... my ever finger-licking and sweet, yellowish...

durians... a few names.. Hor Lor, Ang Heh, D64, Siao Hoong and Lan Chiao Yuen (ish.. don't simply read, the middle word read in Chinese 3rd intonation)

Assam laksa in Balik Pulau but I prefer the Siam laksa... simply delicious.. btw, I'm also not a fan of laksa but just like to drive up there when there's nothing better to do, another not-so-famous but delicious laksa will be at my place in Jalan Tengah, Bayan Baru...

#4: Kuih bahalu...
Cukup wangi... also in Balik Pulau or just get the freshly baked ones in Queensbay Mall... at Arena Food Court...

#5: Rojak - Shrimp paste
With mengkuang, cuttlefish and macam-macam... a mixture of everything... that's why called 'rojak'... Penangnites also speak 'rojak' language... you read my blog posts mostly also in 'rojak' language and dialects...

#6: Pickled fruits
No good lar... ever heard of H.Pylori? If not, go find out yourself...


#7: Belacan

#8: Batik
I have two batik dresses hanging on the hangers and another batik cheongsam stashed somewhere underneath a pile of unneatly folded clothes...


#9: Capal
Why must promote this?? Why?? Other places not selling meh??

#10: Songkok
Men's head gear... more to Malay men's head gear... how come a 'must buy' product?

Why not just introduce this one for the women... nyonya kebaya... lagi cantik...
#11: Wooden clogs...
Not this one lar... something like the one your grandma wears to the toilet... also get this from Balik Pulau. If you want the latest model of clogs, go get Crocs' shoes... rubber clogs...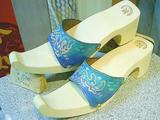 #12: Bird cage...???
Why? I don't get it... just go to Balik Pulau also...
In conclusion, I think the state government is trying to promote Balik Pulau. I give you more information, when you're at the Rapid Pg bus terminal, board bus 301 or 401 Express, tell the bus driver, going to the last stop.. it's only RM3.50 one way... you may even board the bus at Komtar. Kindly bring a huge umbrella or you'll melt under the sun. Don't wear thick clothing, just wear a spaghetti strap and for men, go in your singlet... get a bowl of 'ais kacang' to cool yourself down...