...to rescue us from the hand of our enemies, and to enable us to serve him without fear in holiness and righteousness before him all our days.
[Luke 1:74-75]

God wants us to serve Him, without harmful fear affecting our lives. Again, His replacement qualities are holiness and righteousness. A right relationship with God frees us rom so much stress and anxiety.
Fear has been defined as the expectation or apprehension of evil.

False
Evidence
Appearing
Real
When you worry and dwell on fear you are actually imaging failure pictures.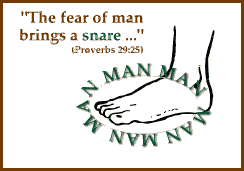 The word 'snare' implies a trap or an entanglement. The devil longs to keep us in his trap and entangled because of the fear of man.
Are you fearful of what your familly, your friends, your work associates etc think of you and your Christian witness? If you are, this will cause a snare.
and as a believer...
as bold as a lion.
[Proverbs 28:1]

~ Accentuate the positive and eliminate the negative ~