I AM LAZY! LAZY TO THE BONES... always like that on Fridays.... haih... I've always wanted to do away with Friday classes so that I can spend the whole day on my bed and make my fingers busy either on the computer keyboard or the remote controls.
I'm presently blogging, chatting, facebook-ing and watching...
channel... staring at the screen enjoying the cartoon Jimmy Neutron...
Fairly Odd Parents...
Spongebob Squarepants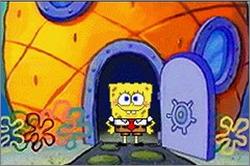 What is gonna happen to me in ten years time? Still like this?