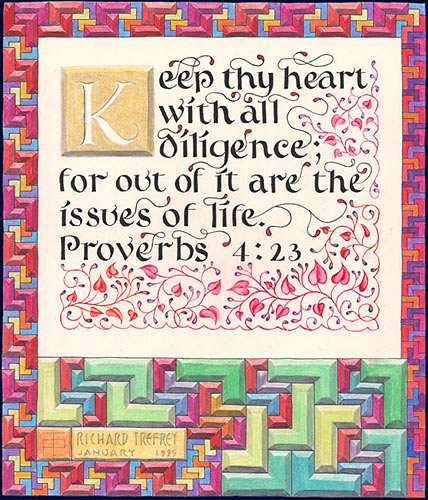 Our NIV version:
Above all else, guard your heart, for it is the wellspring of life.
[Proverbs 4:23]
Be careful how you think, your life is shaped by your thoughts.
[Proverbs 4:23]
~ THINK YOU CAN, THINK YOU CAN'T: EITHER WAY YOU'LL BE RIGHT ~
Be careful of what you imagine yourself becoming. There is an abundance of scientific evidence that an individual's mental picture of himself, more than any other factor, sets the ultimate boundaries of his achievements. We now know that the human brain, like an intricate automatic guidance system, will steer your life toward a realisation of the mental self-image you feed into it. Your subconscious will work for you or against you. You make the determination by the self-fulfilling dreams or the self-defeating limitations you feed into it.
~ Our THOUGHTS not only REVEAL what we ARE; but they PREDICT what we will BECOME. We will soon be the SUM TOTAL of our THOUGHTS. ~
...for he is the kind of man who is always thinking about the cost.
"Eat and drink," he says to you, but his heart is not with you.
[Proverbs 23:7]