Grain offerings

Burnt offerings

Sin offerings

Drink offerings

Fellowship offerings
This is the book which no one hardly turn to in church or during your own quiet time. In my bid to read the Bible from cover to cover within 365 days, I've started off with the book of Ezekiel. By just reading on the law during the Old Testament, it is amazing how the Israelites managed to follow through and through with all the offerings. If for me, if we're still living under law, I will be scratching my head and searching for the firstborn of ram, a bull or even a lamb. I will have to be a farmer to be able to offer those animals to be presented to God.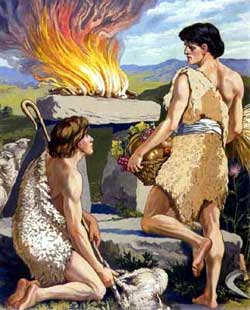 In the book of Ezekiel, the fall of Jerusalem was written as well. Then, the Lord spoke to the prophet Ezekiel regarding the fate of those different tribes who had gone against Israel during Israel's fall. The outcome of those events were uneventful. It was real punishment without a room of escape. God really come down hard on those who went against Him.
Ezekiel was then brought to the peak of the mountain in Israel to see that a holy temple has to be built according to God's measurements. God is very precise and detail from the north to the south, and from the east to the west. There's no room for mistake. Ezekiel was asked to note down every measurement in cubits.
The name of the city will be...
THE LORD IS THERE
The Lord is here among us as well. Sometimes we are to distracted to even feel His holy presence. There are times we ignore Him because we thought that God will never understand us in a situation. We always forget that He created us so even though we're 2000 years more civilized than when He first sent Jesus down to earth, He still knows best. I am one of those people who left God to Himself whenever things didn't turn out right. No doubt I read His Words every night, I still cannot be like others who praise God during a very bad storm. We're all sinners. Deal with that before you start pointing a finger at me and say that I'm a hypocrite. Everyone is a hypocrite as we all have sinned and fall short of the glory of God.
Again, I thank God that we are saved by His grace and not by His laws. It's just too impossible to carry out all those offerings when some of us can't even give a Sunday morning to worship God.